;
We believe in healthy bonds
At Convatec, our products are designed to keep the skin around your stoma healthy so you can develop a healthy bond with your ostomy system, yourself, and best of all, a life that's all about living.
Lean more
Start by creating a healthy bond with your
ostomy system
Convatec has a range of unique technologies to help you focus on living your life without worrying about leakage or skin irritation. Explore the benefits of Convatec Mouldable Technology™, our adhesive technology and our essential accessories.
Find Products
With Convatec Mouldable Technology base plates the only thing you have to cut out is the cutting out.
Cutting out your base plate can seem like a task. Making sure you haven't left any gaps that expose your skin to output and creating a seal strong enough to protect from leakage can be stressful. When you use a Convatec Mouldable Technology™ base plate, you don't have to worry about gaps and a secure seal. Let the patented technology in the base plates take care of that.
;

Clinical Summary: Osmose Study, Multinational Evaluation of the Peristomal Condition in New Ostomates Using Moldable Skin Barriers Maria Teresa Szewczyk, MD, PhD; Grazyna Majewska, RN, ETN; Mary V. Cabral, MS, FNP-BC, CWOCN- AP; and Karin Hölzel-Piontek, RN; The Effects of Using a Moldable Skin Barrier on Peristomal Skin Condition in Persons with an Ostomy: Results of a Prospective, Observational, Multinational Study, Ostomy Wound Management 2014;60(12):16–26.
Convatec Mouldable TechnologyTM base plates:
95% of people who started with a Convatec Mouldable base plate kept their skin healthy1.
;
Tri-Laminate Protection
Top Layer
The outside layer with our exclusive Durahesive™ technology provides leakage protection. This unique hydrocolloid will 'turtleneck' or gently swell and hug the stoma when in contact with output, creating a seal for added security and skin protection.
Middle Layer
The thin center polyethylene film is water-resistant and durable. The Rebounding Memory Technology™ provides elasticity to hug the stoma for a precise and personalised fit. Designed to move with your body, it gently expands and contracts with the stoma as it changes sizes for a continuously snug fit.

Bottom Layer
The bottom side of the base plate adheres to the skin with our proprietary Stomahesive® or Durahesive® technologies. These skin -friendly hydrocolloid adhesives form a secure seal to keep the system in place and protect skin from stoma output for longer wear time.
Meet Tommy: A Double Ostomate
;

Watch Tommy's Story
Our adhesives provide leakage control
As many as 75% of ostomates report skin complications1. Convatec has three types of adhesives, created to stop skin irritation before it starts. Trust Convatec to get it right the first time, everytime.
;
Trust the brand that is the gold standard in hydrocolloids.
It's also the brand that invented them. Convatec revolutionised ostomy care with the development of Advanced Hydrocolloids. 40 years later no one has more experience creating healthy bonds.
Meet Lauren: Living with an ostomy and finally thriving
;

Watch Lauren's Story
Make sure you have healthy skin, everyday, everywhere you go**
From application to removal keep your skin healthy with Convatec's line of essential ostomy care products.
;
New ESENTA™ Lubricating Deodorant stops ostomy odors and buildup at the same time
Lubricating spray coats the pouch to prevent stool buildup around the stoma that can compromise the seal
Stops odor before it starts
Meet our ESENTA™ products
;

Watch ESENTA video
No matter your body type, stoma size or stoma location, we have the product that's right for you.
Fit is so important. Convatec knows that there is no one-size-fits-all product that works for every body or every stoma. Discover and sample products to fit your body.
Products to fit your body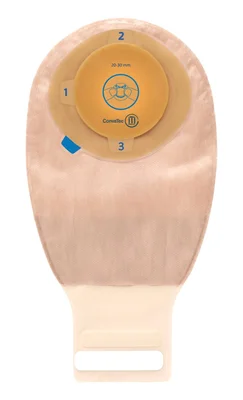 Esteem™ + One-Piece Mouldable Drainable Pouch
;
Natura® 2-piece systems. Healthy bonds in life start with a healthy bond between your patient and their pouch.
Created to stop irritation before it starts
As experts in skin health, we pioneered Advanced Hydrocolloid Technology.
Maximum leakage control
Proven to provide a long-lasting seal that is designed with skin health in mind.
Wide range of systems
Customisable baseplates and pouches to comfortably fit your patient's need and stoma type
Meet Kim: Living with an ostomy, helped Kim find her confidence again.
;

Watch Kim's Story
;
Connect with me+TM and enjoy a healthy bond with the life you love.
Our me+TM support program is there to help you on every step of your journey. Enroll and connect with the ostomy answers you need to grow more confident every day.
Join me+
Get access to the support you want:
Living with an ostomy can take the right education and support. With me+TM, we make sure you don't have to figure it out alone. Enrol today to access our customer care team who can answer your questions and offer free product samples.

Getting the benefits of me+TM is easy. Simply call 1800 335 276 or click the link below.
Enroll in me+
;

Access to ostomy nurses to get the answers you need.

Access to ostomy nurses to get the answers you need.
;

Access to product specialists to find products right for you
;

Access to a recovery program to support your journey
;

Join over 400,000 community members worldwide
;
My Ostomy Journey App from Convatec.
The easy app that makes ostomy care easier.
Track diet and fluid intake.
Track pouch changes.
Get the support you need.
Find and track products that work.
Download the app
Meet Ron: Being part of the community helped save Ron's life.
;

Watch Ron's Story
When it comes to living with an ostomy, It's all about having
a healthy bond.
By establishing a healthy bond with your ostomy system, and growing more confident in yourself you can discover a healthy bond with the life you always dreamed of.
See how our community is thriving with healthy bonds.
;

Watch Their Story