Search Products by Category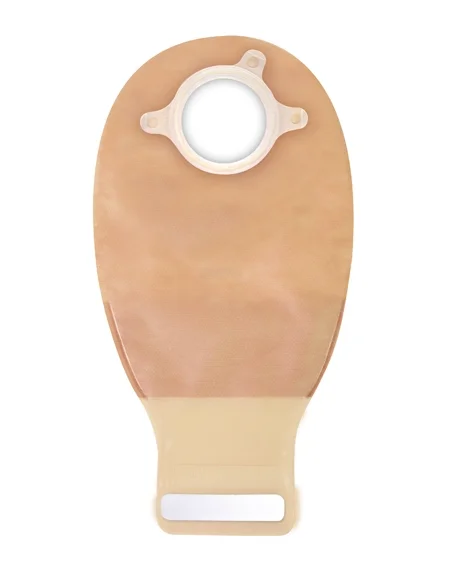 Natura®+ Drainable Pouch
The Natura®+ pouches are compatible with SUR-FIT Natura® Two-Piece Ostomy System which is Convatec's most extensive two-piece product line. The SUR-FIT Natura® and Natura®+ Flange System signals a secure, accurate closure with a series of audible "clicks". A simple snap-off, snap on design allows users to change the pouch quickly to match activities without removing the skin barrier from the skin.
Natura®+ pouching system offers the latest technologies from Convatec, including:
A state-of-the art filter with anti-clogging film layer, soft and quiet materials, and the security of the InvisiClose™ tail closure with Lock-it Pocket™
Convatec's latest pouches combined with SUR-FIT Natura® advanced skin barrier adhesives offer you the security, comfort and discretion you deserve.
Request Sample
Think this product might be right for you? Request your free sample by completing this short form today.
Have questions about living with an ostomy? Call our me+ support team at
1-800-422-8811
today.
Contact us
Ordering Information

| SKU / Reference | HCPCS | Description | Color | Stoma Size | Quantity |
| --- | --- | --- | --- | --- | --- |
| 416414 | A4425 | 12" pouch with 1-sided comfort panel, InvisiClose® Tail Closure and filter | Transparent | 38mm (1½") flange | 10 per box |
| 416415 | A4425 | 12" pouch with 2-sided comfort panel, InvisiClose® Tail Closure and filter | Opaque | 38mm (1½") flange | 10 per box |
| 416416 | A4425 | 12" pouch with 1-sided comfort panel, InvisiClose® Tail Closure and filter | Transparent | 45mm (1¾") flange | 10 per box |
| 416417 | A4425 | 12" pouch with 2-sided comfort panel, InvisiClose® Tail Closure and filter | Opaque | 45mm (1¾") flange | 10 per box |
| 416418 | A5063 | 12" pouch with 1-sided comfort panel, InvisiClose® Tail Closure; no filter | Transparent | 45mm (1¾") flange | 10 per box |
| 416419 | A4425 | 12" pouch with 1-sided comfort panel, InvisiClose® Tail Closure and filter | Transparent | 57mm (2¼") flange | 10 per box |
| 416420 | A4425 | 12" pouch with 2-sided comfort panel, InvisiClose® Tail Closure and filter | Opaque | 57mm (2¼") flange | 10 per box |
| 416421 | A5063 | 12" pouch with 1-sided comfort panel, InvisiClose® Tail Closure; no filter | Transparent | 57mm (2¼") flange | 10 per box |
| 416422 | A4425 | 12" pouch with 1-sided comfort panel, InvisiClose® Tail Closure and filter | Transparent | 70mm (2¾") flange | 10 per box |
| 416423 | A4425 | 12" pouch with 2-sided comfort panel, InvisiClose® Tail Closure and filter | Opaque | 70mm (2¾") flange | 10 per box |
| 416424 | A5063 | 12" pouch with 1-sided comfort panel, InvisiClose® Tail Closure; no filter | Transparent | 70mm (2¾") flange | 10 per box |
| 416472 | A4432 | 12" pouch with 1-sided comfort panel, InvisiClose® Tail Closure; no filter | Transparent | 100mm (4") flange | 10 per box |

Colostomy

Ileostomy

Large Output

Extended Wear

Daywear

Nightwear

Hospital

Travel

Extended Travel

Active

Swimming

Bathing
Guides
SUR-FIT Natura Two-Piece System Application Guide
Printable Materials
Living with confidence after ileostomy surgery
Living with confidence after urostomy surgery
Living with confidence after colostomy surgery
For more information or product sample request, get in touch with our team
Contact us