Search Products by Category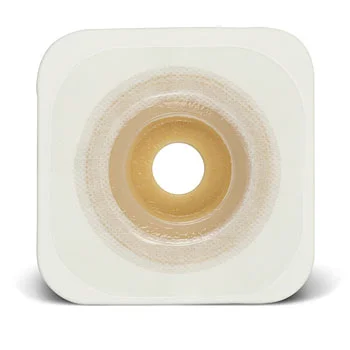 Esteem synergy® Flat Moldable Skin Barriers
The Esteem
synergy
®
Ostomy System offers skin barriers with our latest skin barrier technology. ConvaTec Moldable Technology
™
skin barriers provided a personalized, custom fit around the stoma to help protect the peristomal skin. They require no cutting or guess work making them very easy to use. The Esteem
synergy
®
Ostomy System utilizes an innovative Adhesive Coupling Technology
™
that connects the pouch to the skin barrier and eliminates the need for plastic rings that must be snapped or locked together. Instead of a plastic ring, Esteem
synergy
®
Pouches feature a flat, flexible adhesive foam ring that securely connects to a flexible, clear "landing zone" on the skin barrier. The result is a low-profile, flexible two-piece system.
Request Sample
Think this product might be right for you? Request your free sample by completing this short form today.
Have questions about living with an ostomy? Call our me+ support team at
1-800-422-8811
today.
Ordering Information

| SKU | HCPCS | Description | Color | Size | Quantity |
| --- | --- | --- | --- | --- | --- |
| 411657 | A4414 | Stomahesive® Skin Barrier with Mold-to-Fit opening and hydrocolloid tape collar | White | 13-22mm (½" - 7/8") stoma size | 10 per box |
| 411658 | A4414 | Stomahesive® Skin Barrier with Mold-to-Fit opening and hydrocolloid tape collar | White | 22-33mm (7/8" - 1¼") stoma size | 10 per box |
| 411659 | A4414 | Stomahesive® Skin Barrier with Mold-to-Fit opening and hydrocolloid tape collar | White | 33-45mm (1¼" - 1¾") stoma size | 10 per box |

Colostomy

Ileostomy

Urostomy

Sensitivity

Sensitive Skin

Maximum Protection

Extended Wear

Daywear

Nightwear

Hospital

Travel

Extended Travel

Active

Swimming

Bathing
Guides
Esteem synergy® Convexity Application Guide
Printable Materials
Living with confidence after urostomy surgery
Living with confidence after ileostomy surgery
Living with confidence after colostomy surgery
For more information or product sample request, get in touch with our team
Contact us