Search Products by Category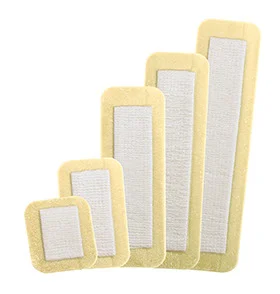 AQUACEL® Ag Surgical SP
Combination dressing with a mix of skin-friendly hydrocolloid technology for comfort during body movement, and proprietary Hydrofiber® Technology with ionic silver to help manage serosanguinous fluid. Cover layer of polyurethane film provides a viral, waterproof and bacterial barrier (when intact and with no leakage), for a high-performance dressing. Added ionic silver provides sustained antimicrobial activity for up to fourteen days as demonstrated by in vitro studies.1
Ordering Information

| SKU | Description | Size | Quantity |
| --- | --- | --- | --- |
| 413557 | AQUACEL® Ag SURGICAL SP cover dressing | 9x10cm (3½" x 4"); for incisions up to 4cm (1½") | Box of 10 dressings |
| 413556 | AQUACEL® Ag SURGICAL SP cover dressing | 9x15cm (3½" x 6"); for incisions up to 9cm (3½") | Box of 10 dressings |
| 413555 | AQUACEL® Ag SURGICAL SP cover dressing | 9x25cm (3½" x 10"); for incisions up to 17cm (7") | Box of 10 dressings |
| 413554 | AQUACEL® Ag SURGICAL SP cover dressing | 9x30cm (3½" x 12"); for incisions up to 22cm (9") | Box of 10 dressings |
| 413553 | AQUACEL® Ag SURGICAL SP cover dressing | 9x35cm (3½" x 14"); for incisions up to 27cm (11") | Box of 10 dressings |
Post-operative protection for surgical wounds*. The right dressing can make a difference. AQUACEL® Ag Surgical SP Cover Dressing provides the following benefits:
Waterproof
Antimicrobial Protection1-3**
Comfortable and Flexible
Slim Profile (SP) Design

*Indicated for wounds healing by primary intent. Refer to product Instructions for Use for more information.
** As demonstrated in vitro
References:
Jones SA, Bowler PG, Walker M, Parsons D. Controlling wound bioburden with a novel silver-containing Hydrofiber dressing. Wound Repair Regen. 2004;12(3):288-294.
Bowler PG, Jones SA, Walker M, Parsons D. Microbicidal properties of a silver-containing hydrofiber dressing against a variety of [...]. JBC Rehabil. 2004;25(2):192-196.
Bowler P. Progression toward healing: wound infection and the role of an advanced silver-containing Hydrofiber dressing. Ostomy Wound Manage. 2003;49(suppl 8A):2-5.
Learn more about AQUACEL® Ag SURGICAL cover dressing
Please note: This product does not contain latex.
Please see package insert for complete instructions for use.
For more information or product sample request, get in touch with our team
Contact us