Relationships with an Ostomy
It's common to have some anxiety about relationships following ostomy surgery.
Intimacy
While it's normal to feel insecure about how your ostomy changes your body, intimate encounters can be a part of your life. Communication and trust are at the heart of the rehabilitation process. It's comforting to know that intercourse won't hurt the stoma - and neither will you. Share your feelings with your partner and also answer their questions. With time and a positive attitude, you can enjoy a mutually satisfying sexual relationship.
Tips to improve your intimacy
Trust is the key to intimacy. The more you talk with your partner about your stoma, how you feel and what you need, the stronger your bond will be.
There is a true old saying: the way you see yourself influences the way people see you. Take time after surgery to recognize the changes your body has gone through, analyze your emotions about how you feel after the surgery, and share your feelings with your partner. You will find that your body's acceptance after surgery comes with time.
The stoma has no nerve endings; therefore, you will not feel pain or other sensations, but you may bleed a little if irritated. Trying different positions can help you avoid these types of problems.
The side-by-side position almost always works well for people who have a stoma, as the pouch will lie on the side and not between you and your partner.
Empty the pouch before initiating sexual intercourse. If you prefer, you can use a more discreet pouch on this day.
If your stoma makes you insecure during intimate moments, cover the pouch with lingerie or a pouch cover.
For women
If you use oral contraceptive, you may have to change birth control, especially if you've had an ileostomy. Oral contraceptives are often not absorbed with the small intestine smaller. Talk to your healthcare provider about the best way to prevent pregnancy.
After surgery, many women experience vaginal dryness. Try using an intimate lubricant or talk to your doctor about other options for treating vaginal dryness.
For men
Some men may experience symptoms of erectile dysfunction or inability to ejaculate shortly after surgery. Don't worry. Dysfunction may be related to surgery or anxiety during intimate caresses. If problems maintaining an erection persist, talk to your healthcare provider who may be able to help.
A guide to intimacy after ostomy surgery
Although it's normal to feel sensitive about how an ostomy changes your body, fulfilling intimate encounters can still be part of your life.
Read more
me+ answers
Date night with an ostomy
With a little planning ahead, you can be sure to have agreat night out.
Read more
Date night with an ostomy
Read more
Look great and feel confident
Ostomysecrets gives you everything you need to conceal and support your ostomy pouch, without sacrificing your personal style.
Shop Now
Product Highlights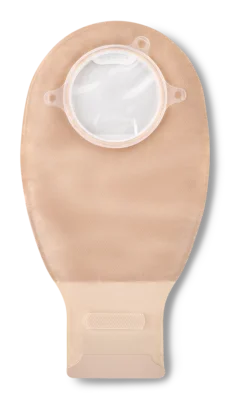 Natura® + Two-Piece Drainable Pouch with upgraded Invisclosure™ Closure
The Natura® + pouches are compatible with Natura® Two-Piece Stoma System which is ConvaTec's most extensive two-piece product line. The Natura® and Natura® + Systems signal a secure, accurate closure with a series of audible "clicks". A simple snap-off, snap-on design allows users to change the pouch quickly to match activities without removing the baseplate from the skin.Natura® + pouching system offers the latest technologies from ConvaTec, including:- Soft and quiet materials – these resist water and dry quickly, the shape is streamlined for added comfort and discretion- The security of the InvisiClose tail closure with Lock-it Pocket™ – this hides away the flapping tail to provide the security and comfort of a closed end pouch. The closure has fewer steps so is easier to use- ConvaTec's latest pouches combined with Natura® advanced baseplate adhesives offer you the security, comfort, and discretion you deserve.
View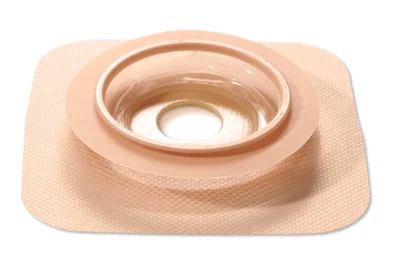 Natura™ Durahesive™ Moldable Skin Barrier with Accordion Flange
The Natura™ Accordion Flange makes pouch application much easier and more comfortable - while delivering the proven skin protection of Moldable Technology.
View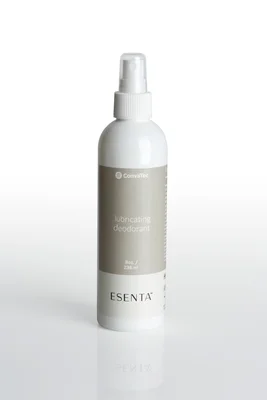 ESENTA™ Lubricating Deodorant
ESENTA™ Lubricating Deodorant is a dual-action product that can be used for odor control and lubrication. The spray stops odors and coats the pouch, allowing the stool to fall to the bottom and not build up around the stoma. Lubricating spray coats the pouch to prevent stool build up around the stoma that can compromise the seal Stops odor before it starts Made with natural eucalyptus, lavender, pine oils and other natural ingredients Easy to use pump spray for use with both drainable and closed-end pouches Up to 68 applications per bottle* *Using 3 sprays per application Live life more carefree with ESENTA Lubricating Deodorant
View
me+ Support
Living with an ostomy can take the right support. With me+ you don't have to figure it out alone.
Join me+