Before Surgery
Ostomy surgery can be a challenging experience. Convatec wants to provide products that fit right and work best for you with unmatched support and services.
Request a Free Sample
Enroll for Support
;
Surgery Information
;
How is a Stoma Surgically Created?
A stoma provides an alternative path for urine or fecal waste to leave your body.
Learn More
;
Preparing for Ostomy Surgery
Ostomy surgery may seem overwhelming and a bit scary, but we can help you get ready–physically and mentally.
Learn More
;
Ostomy Types
Colostomy, Urostomy or Ileostomy, we've got all the information you need.
Learn More
3 Primary Types Of Ostomy Surgery
What to Expect
;
At Your Pre-Surgery Visit
It's normal to wonder how ostomy surgery will change your life. We're here to help.
Learn More
;
In the Hospital
Need to know more about your ostomy type? What's a stoma? Not sure why a healthy stoma is critical in your new life? The facts you need are here.
Learn More
;
Immediate Weeks Following Surgery
After your surgery, you may have questions about many things: diet, returning to work, intimate relations and more. Here is a list of questions you may want to ask your healthcare professional.
Learn More
Join me+™
Learning how to live fully with an ostomy takes education, resources and support. And with me+, we make sure you don't have to figure it out alone. Getting the benefits of me+ is easy. Simply call 1-800-422-8811 or join me+ here.
Join me+
;
New & Featured Ostomy Products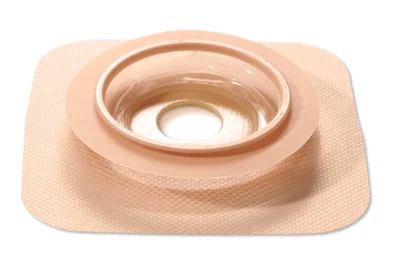 Natura™ Durahesive™ Moldable Skin Barrier with Accordion Flange
The Natura™ Accordion Flange makes pouch application much easier and more comfortable - while delivering the proven skin protection of Moldable Technology.
Request Sample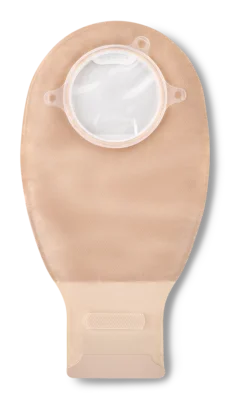 Natura® + Two-Piece Drainable Pouch with upgraded Invisclosure™ Closure
The Natura® + pouches are compatible with Natura® Two-Piece Stoma System which is ConvaTec's most extensive two-piece product line. The Natura® and Natura® + Systems signal a secure, accurate closure with a series of audible "clicks". A simple snap-off, snap-on design allows users to change the pouch quickly to match activities without removing the baseplate from the skin.Natura® + pouching system offers the latest technologies from ConvaTec, including:- Soft and quiet materials – these resist water and dry quickly, the shape is streamlined for added comfort and discretion- The security of the InvisiClose tail closure with Lock-it Pocket™ – this hides away the flapping tail to provide the security and comfort of a closed end pouch. The closure has fewer steps so is easier to use- ConvaTec's latest pouches combined with Natura® advanced baseplate adhesives offer you the security, comfort, and discretion you deserve.
Request Sample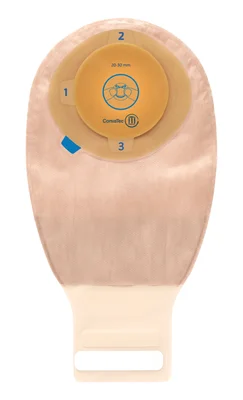 Esteem™+ One-Piece Moldable Drainable Pouch
Esteem+ One-Piece Pouch: The first-ever one-piece pouch with Moldable Technology combines the convenience of a one-piece with clinically-proven skin and leak protection. The thin, flexible design is made to move with the body. Easy to apply and remove, this unique pouch offers a soft comfort panel, advanced filter and an easy-view window on the front of the pouch. SKU #413511 will be discontinued as of July 31, 2020. To learn more about upgraded replacement product options, call 1-800-422-8811.
Request Sample