Search Products by Category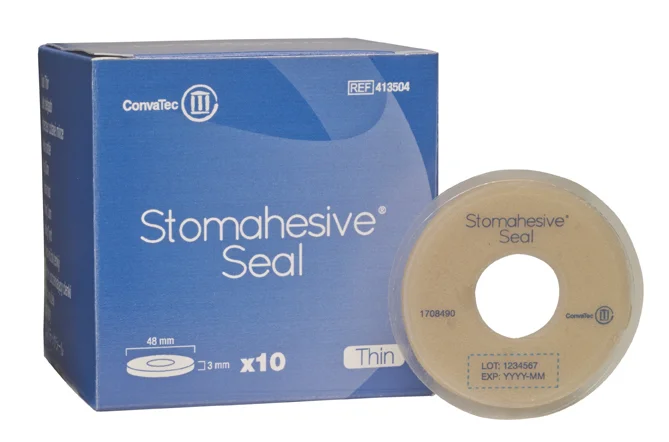 Stomahesive® Seal
One of the main concern for stoma patients is leakage. Not only is it embarrassing, leakage is the skin's worst enemy. Stomahesive
®
Seals offers a simple and effective way to protect the skin around the stoma. Can be custom moulded or stacked to fit individual patient needs, can be broken and rejoined and also used in combination with paste. It is alcohol free.
Sample Request
Please complete the short form below to request a sample. Once received, we will call you to check the product you've selected is appropriate for your needs and note your stoma size.
If you need more stoma care information please call
0800 282 254
for all UK enquiries or
1800 721 721
for all Republic of Ireland enquiries.
Contact us
Ordering Information

| Code | Description | Stoma Size | Quantity |
| --- | --- | --- | --- |
| 413503 | Stomahesive® Seal 48 mm | Ring 48mm (1 15 / 16") | 10 per box |
| 413504 | Stomahesive® Seal thin 48MM | Ring 48mm (1 15 / 16") | 10 per box |

Colostomy

Ileostomy

Urostomy

Maximum Protection

Retracted Stoma

Daywear

Nightwear

Hospital

Maternity (Pregnancy)

Travel

Extended Travel
For more information or product sample request, get in touch with our team
Contact us