Natura® Two-Piece Convex Baseplate with Durahesive®Technology
The Natura® system is a comprehensive product line with our latest baseplate technologies. The plastic coupling ring allows the pouch and baseplate to snap together for audible security. Durahesive® baseplates are designed for people whose stoma output is mostly liquid. Unlike other baseplates that can break down around liquid output, Durahesive® baseplates swell up or "Turtleneck" to better protect the stoma and peristomal skin.
Durahesive® Skin Barrier provides added protection from liquid output. Durahesive® Skin barrier will Turtleneck or gently swell up and hug the stoma, better protecting the skin around your stoma.
Coupling ring provides audible click confirming secure connection to pouch.
Built in CONVEX-IT® Technology provides extra protection for recessed, retracted or flush stomas.
White fabric collar increases flexibility.
Pre-Cut stoma opening.
Duraheive® Technology has a unique combination of naturally derived hydrcolloids to provide long lasting, skin friendly protection but still remain kind on removal.

Colostomy

Ileostomy

Urostomy

Extended Wear

Flush/Retracted Stomas

Retracted Stoma

Extended Travel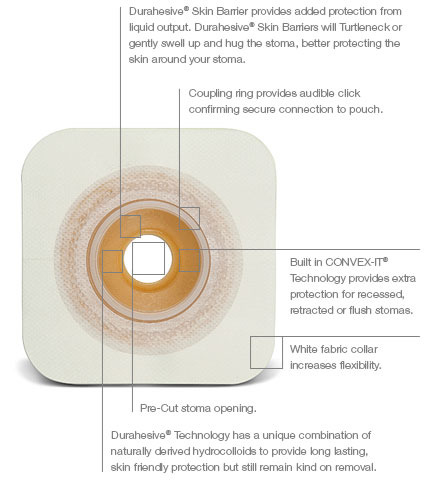 New & Featured Stoma Products