Search Products by Category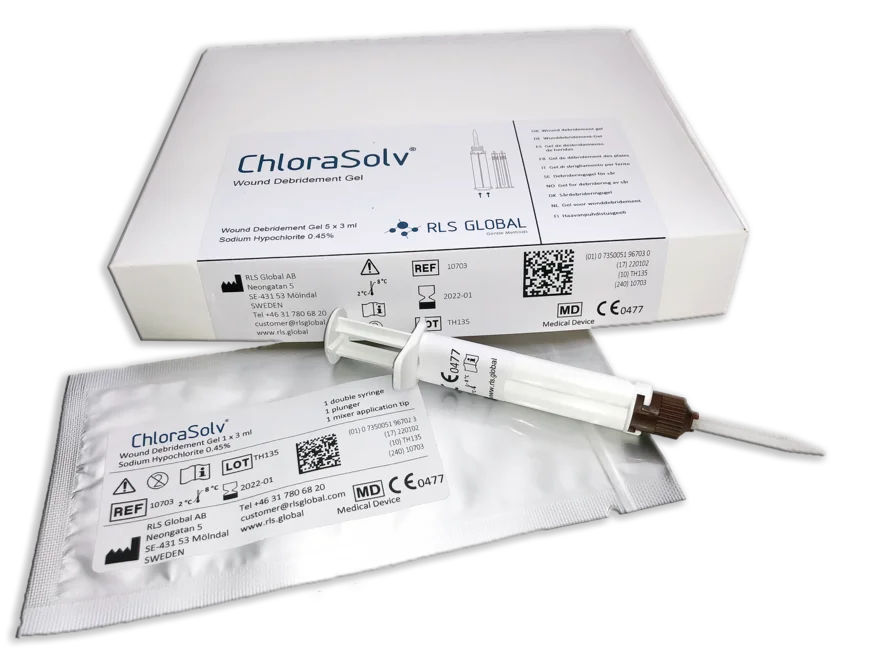 ChloraSolv®
ChloraSolv®  Wound Debridement Gel is a new and unique technology for convenient, effective and gentle wound debridement of patients with hard-to-heal lower leg and diabetic foot ulcers. ChloraSolv®  is based on a unique hypochlorite technology consisting of a two-component system
Ordering Information

| Code | Description | Size | Quantity |
| --- | --- | --- | --- |
| 10703 | ChloraSolv® Wound Debridement Gel | 3 ml | 5 per box |
The importance of debri

dement –

Introducing

a new-Chemo mechanical technology: ChloraSolv®
ChloraSolv® can be used in conjunction with weekly dressings to improve healing of diabetic foot ulcers compared with current standard treatment (advanced wound dressing and sharp debridement)1, effectively eradicating biofilm bacteria in just 2 minutes2
ChloraSolv® can be effective and is well-tolerated in the treatment of hard-to-heal wounds to soften and remove devitalised tissue3, with 72.7% reduction of devitalised tissue and 30.9% wound size reduction after 5 weeks.
ChloraSolv® brings unique benefits for wound debridement
Convenient:
Easy to use in primary care settings and in patients' homes by all healthcare professionals

Makes it easy to mechanically remove devitalised tissue, biofilm, pus and dirt by using a blunt instrument and/or washing and wiping off the wound bed4
Short application time and fast acting to enable an efficient cleaning procedure3
Effective:
Facilitates cleansing and debridement of hard-to-heal wounds4, preserving healthy, viable tissue5
Softens the necrotic tissue of hard-to-heal lower leg and diabetic foot ulcers, for gentler and easier wound debridement3,6
Contains sodium hypochlorite - a broad-spectrum anti-microbiological agent that reduces the microbiological load2
Gentle:
Reduces pain related to debridement in patients with hard-to-heal lower extremities and diabetic foot ulcers3
Preserves healthy, granulating and viable tissue during debridement5
ChloraSolv® is non-irritant5
ChloraSolv® is manufactured by RLS Global AB and exclusively distributed by Convatec. © 2022 RLS Global and Convatec. ChloraSolv® and the RLS logo are trademarks of RLS Global AB. Convatec and the Convatec logo are trademarks of the Convatec group of companies. 
Bergqvist, K., et al. The role of chloramines in treatment of diabetic foot ulcers: an exploratory multi-centre randomised controlled trial, Clinical Diabetes and Endocrinology (2016) 2:6. 

Olausson, S., Ahlenius, M. Fast complete eradication of biofilm by wound debridement gel. EWMA 2021.

Eliasson, B.,

Fagerdahl

, A-M.,

Jönsson

, A.,

Apelqvist

, J. Debriding effect of amino acid-buffered hypochlorite on hard-to-heal wounds covered by devitalised tissue: pilot study. Journal of Wound Care (June 2021) 30:6. 

Instructions For Use

Data on file. RP-00008 Biological Evaluation

Data on file. RP-00087 ChloraSolv Claims Verification
Guides
ChloraSolv Global Leave Behind April 2022
Printable Materials
ChloraSolv JWC Supplement August 2022
ChloraSolv Publication Summary Eliasson April 2022
ChloraSolv Publication Summary Bergqvist
ChloraSolv® Wound Debridement Gel White Paper Infographics
Chlorasolv Wound Debridement Gel White Paper
For more information or product sample request, get in touch with our team
Contact us