Improving Your Ostomy Care Routine Starts with 4 Steps
;
Understanding Accessories
1. Skin Preparation
;
How can I keep my skin healthy?
Try ESENTA™ Sting-Free Skin Barrier Spray or Wipes
Creates a protective layer that shields your skin from the damaging effects of adhesives, body waste and skin irritation.
What do I do when my skin is compromised?
Try Stomahesive® Protective Powder
This preparation may help form a protective barrier against excoriating discharge on compromised skin.
How can I improve the contact between adhesives and skin?
Try ESENTA™ Sting-Free Skin Barrier Wipes
Provides a barrier film layer on the skin that may help increase the contact or stick of adhesives to the skin.
See also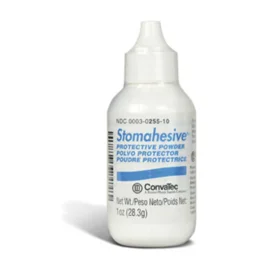 Stomahesive® Protective Powder
Helps form a protective barrier for excoriated or weeping skin.
View
2. Pouching Support
What products will help even out the skin surface for the best pouch adherence?
Try eakin® Cohesive® Paste or Stomahesive® Paste
Use to fill crevices, skin folds and scars to help create an even pouching surface. This improves the likelihood of good adhesion and may help reduce the risk of leakage.
How do I get the best fit around the stoma to reduce leakage?
Try eakin® Cohesive® Seals
Acts as a filler for uneven skin surfaces and provides enhanced protection for hard-to-fit stomas.
What can be done for moisture in order to prevent Moisture Associated Skin Damage?
Try eakin® Cohesive® Seals
May help to absorb moisture and prevent it from coming into contact with the skin around your stoma.
See also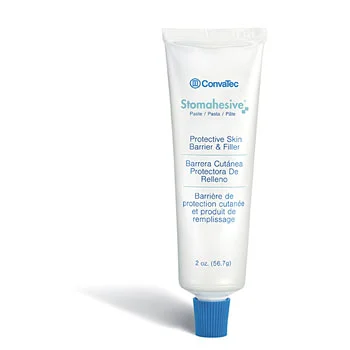 Stomahesive® Paste
Hydrocolloid-based protective skin barrier. Use as a filler in uneven skin surfaces to help increase ostomy system wear-time and protect skin.
View
3. Added Security
;
What can I use for additional support to keep the skin barrier in place?
Try ease™ Strips
Helps keep your skin barrier in place. ease™ Strips are thin, flexible, water-resistant and are designed to help you feel confident and secure.
What can help keep the seal around the stoma intact?
Try an Ostomy Appliance Belt
Used to assist the ostomy barrier with providing a seal around the stoma.
How can I keep my ostomy system in place during physical activity?
Try Ostomysecrets® Classic Wraps
The wicking fabric makes it perfect to wear during exercise, and it can also be worn at night or during intimate moments.
See also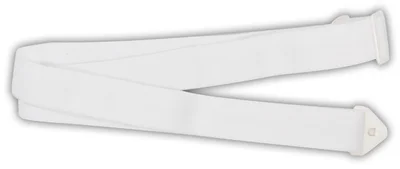 Belt
Provides an added sense of security.
View
4. Pouch Removal
;
What solution can I use to prevent painful appliance removal?
Try ESENTA™ Sting Free Adhesive Remover Spray or Wipes
Non-alcohol, silicone-based formula that offers quick release of adhesives from the skin and is designed to minimize painful skin stripping on removal.
How can I remove adhesive residue?
Try ESENTA™ Sting Free Adhesive Remover Wipes
Removes adhesive residue from the skin. Usage with each appliance change prevents residue build-up.
Improve Your Ostomy Care Routine with ConvaTec Accessories
Whether you are looking for better skin protection or added security to your ostomy system, with the right combination of accessories, you can feel even more comfortable and at ease.
Click the button below to request free accessory samples or a one-on-one evaluation with a me+™ product specialist or ostomy nurse.
Samples
Learn more about accessories by watching these application videos
;
How to use Stomahesive® Paste
;
How to use ease™ Strips to help secure your ostomy pouching system
;
How to use eakin Cohesive™ Seals
Connect with a qualified retailer to find out if your insurance will cover these accessories
More in Guide to Ostomy Products
Featured in Ostomy
Ostomy
Healthy Bonds
Our bonds determine who we are.
Read more
Ostomy
Esenta
Skin care products providing silicone-based skin protection and adhesive remover.
Read more