Infection and Biofilm Management
In the battle against hard-to-heal wounds, there is an invisible enemy: biofilm. A major barrier to wound healing, it's present in at least
78% of hard-to-heal wounds.*
Thanks to our breakthrough MORE THAN SILVER™ technology - which contains ionic silver together with a surfactant and a metal chelating agent - our dressing delivers superior* anti-biofilm performance compared to other silver dressings.

Find out about MORE THAN SILVER™ technology
Our Infection and Biofilm Management Product Portfolio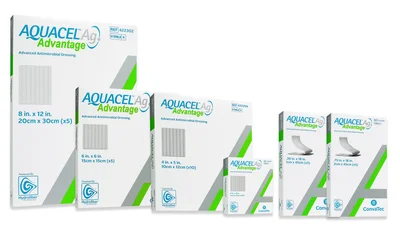 AQUACEL® Ag Advantage
AQUACEL® Ag Advantage dressings are antimicrobial primary dressings for use in acute and hard-to-heal wounds that are infected or at risk of infection with varying exudate levels. AQUACEL® Ag Advantage incorporates two powerful technologies – Hydrofiber™ and MORE THAN SILVER™ - that work together synergistically to effectively manage biofilm within the dressing.
Read more
Wound Hygiene
Wound Hygiene is a four-step regime designed to clean and decontaminate a wound and overcome the barriers to healing often caused by the presence of biofilm.

Just as we follow basic hygiene every day by washing our hands, brushing our teeth, and showering, we should apply regular basic hygiene to wounds to keep them clean and remove biofilm. By implementing Wound Hygiene, you can ensure every wound is properly prepared for healing every time.

Not everything needs to be complicated. Keep biofilm-based wound care simple.
Read more
Wound Hygiene
Wound Hygiene
Learn more
Access our Clinical Capability Framework
Read more
You might be interested in...